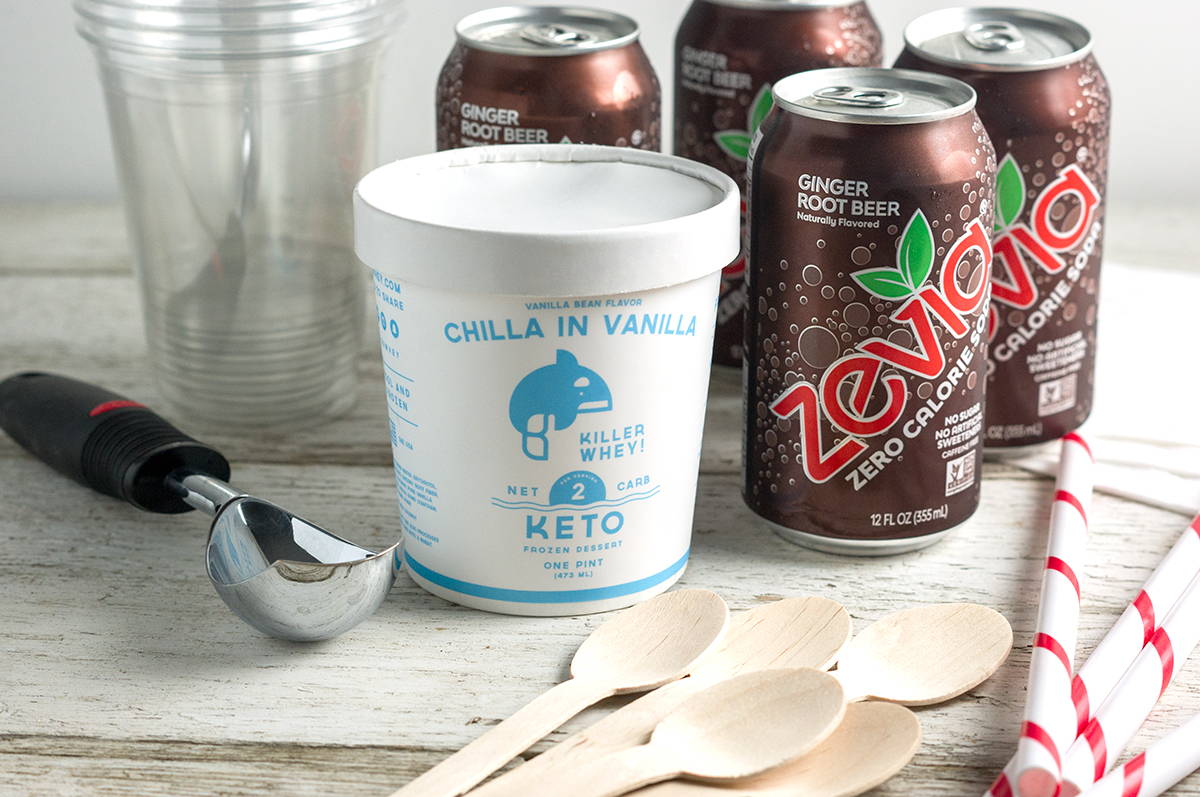 Even though it's still officially spring, the weather in Idaho has made the shift towards summer. The extended forecast on my weather app is showing that the highs are supposed to stay around the 70s to 80s for the next two weeks. Although it is Idaho… so you never know. We have a tendency for all four seasons in one day, and I do remember it snowing in May in the past. Hopefully I didn't just jinx it!  
With the nicer weather comes more time spent outside. Root Beer floats and summer are synonymous in my mind. What a better way to welcome in the warm weather than with Zevia Root Beer Floats made with Killer Whey! Keto Ice Cream.
I really do enjoy root beer floats, but honestly, I usually pass them up because there is so much sugar in root beer. I love them, but then I feel awful afterwards. A 12-ounce can of root beer has 45 grams of sugar (11 tps sugar) and a ½ cup of Dreyer's Vanilla Ice Cream has 14 grams of sugars (3.5 tsp sugar). So 4 grams of sugar = 1 tsp, if you're wondering.
Bottomline is that I don't want the blood sugar spike and crash. I'd rather just eat the ice cream by itself. But I'm not a huge fan of plain vanilla ice cream. That's why Killer Whey!'s vanilla is so good! It's vanilla bean! There is seriously a noticeable difference between plain vanilla and vanilla bean ice creams.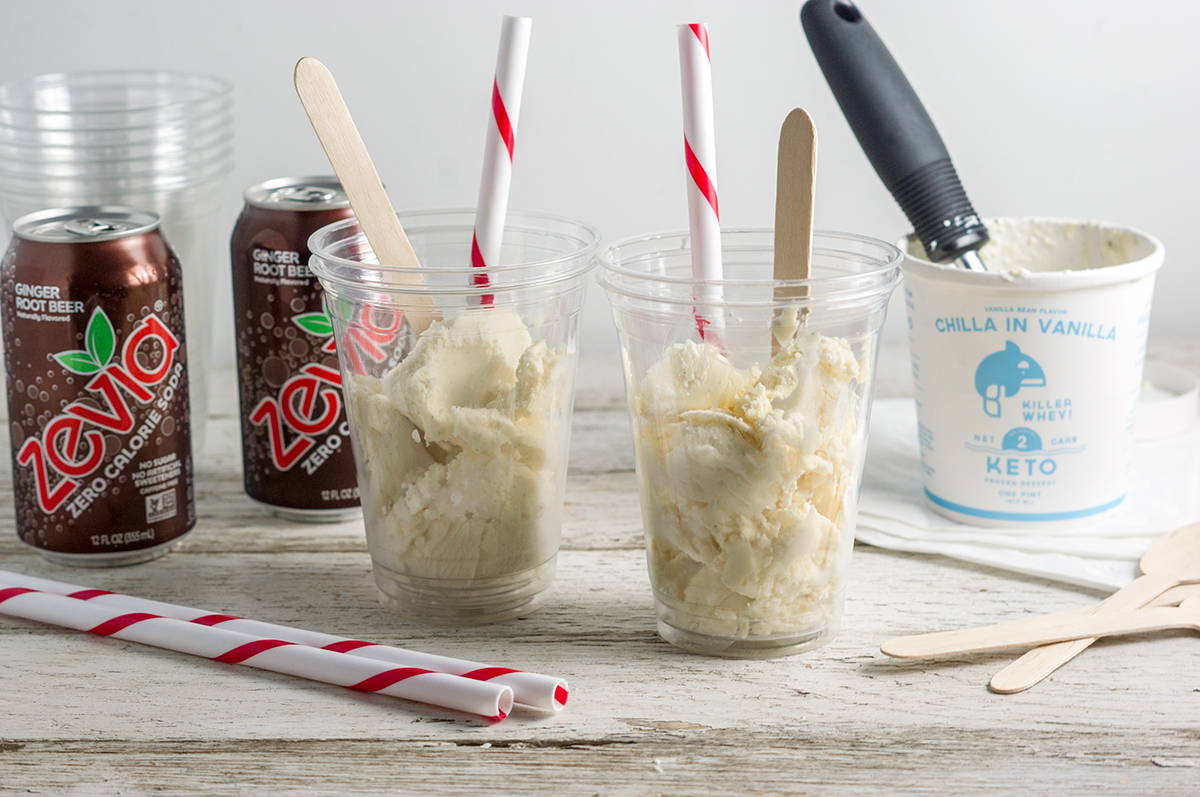 Zevia is a soda made with Stevia as the sweetener, so it's zero calories, zero sugar. Chilla in Vanilla Killer Whey! Keto Ice Cream has only 2 grams of net carbs per ½ cup serving. I'm only making root beer floats with Zevia Root Beer and Killer Whey! Keto Ice Cream from now on! And you should too!
Root beer floats always bring back memories of childhood. I don't know why I tend to think of them as a kid's dessert, but I do. Another option, of course, is to drink an "adult" root beer float using hard root beer with Killer Whey!, but know that you won't be saving yourself any calories or carbs with hard root beer. But it could be a fun option. Or maybe you could add a shot of vanilla vodka to the Zevia Root Beer floats made with Killer Whey!, that would definitely have less carbs than hard root beer….. The only thing about the Zevia Root Beer is that it's clear. That might throw a few people off, but know that it still tastes like root beer.
So if you're planning a Mother's Day barbecue or need a dessert for your upcoming Memorial Day barbecue, Zevia Root Beer Floats with Chilla in Vanilla Killer Whey! Keto Ice Cream are the way to go! You will definitely impress your guests.
Enjoy!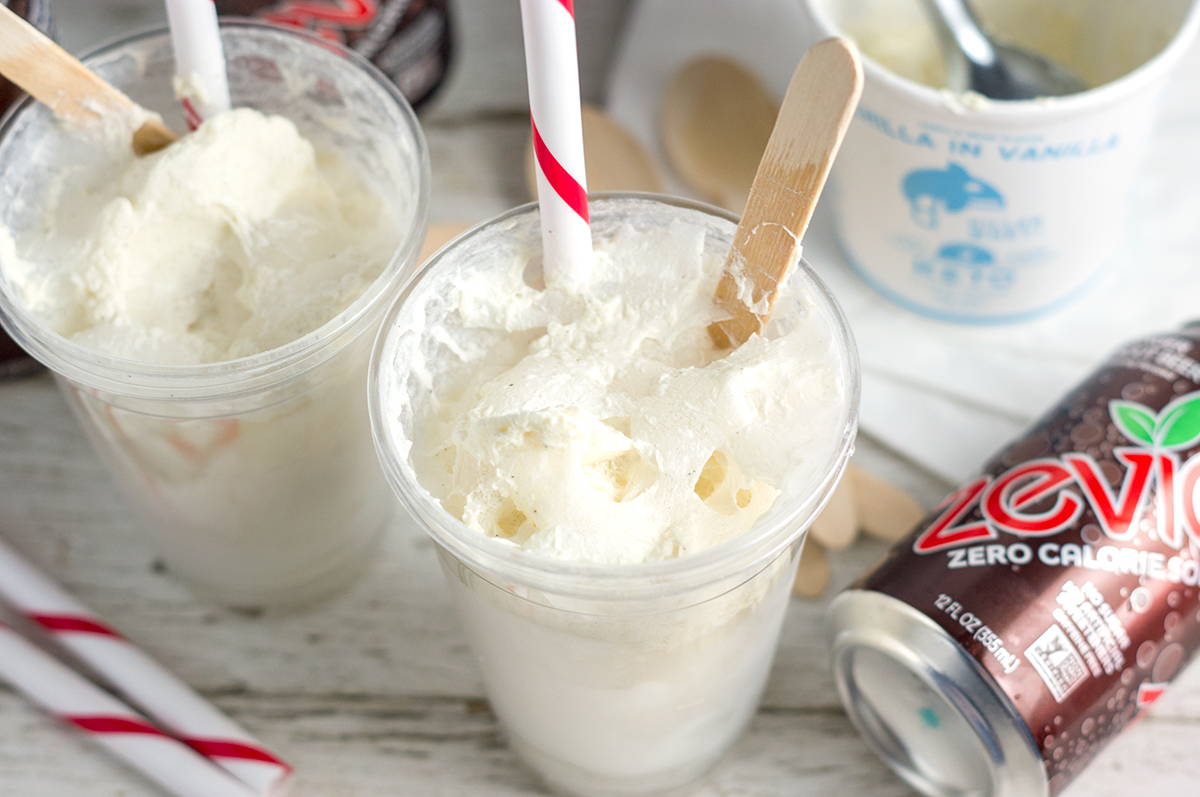 Recipe for Zevia Root Beer Float with Chilla in Vanilla Killer Whey! Keto Ice Cream
1 serving
Ingredients:
½ cup Chilla in Vanilla Killer Whey! Keto Ice Cream

12-oz can of Zevia Root Beer
Directions:
Scoop ½ cup of Killer Whey! into a 16 oz cup

Pour Zevia Root Beer over the ice cream

Enjoy