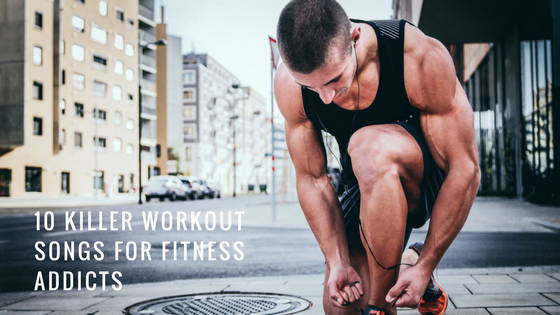 You walk up to the squat rack, it's looking pretty heavy. You've had a long day and don't know if you can do it. Then in the most heart-pounding motivating way, your jam comes on on your headphones. You feel revived, motivated, and a little crazy. Without any hesitation, you pump out that new PR with ease and walk away feeling like a champ. What a feeling!
Here are our top 10 songs to bring out the crazy in you. Enjoy.
* Please not that some of these songs contain adult language.
If you like hip hop and want a song that will have you jumping up and down then All The Way Up is your best bet. Released in 2016 it hit number 27 on the US Hot 100 Billboard.
This is a personal favorite. If you tilt towards alternative rock and need a little kick in the butt to get through your workout this might be the song for you. Inspired by the G20 uprisings the song is a fan favorite for lifters across the world.
For the people who like to throw it back a little bit I included DMX's classic Ruff Ryders Anthem. If you are looking for something to bob your head too, here it is. Get after it.
A classic rock anthem as far as I am concerned. You can hear this song being played in old school gyms across the country and at many sporting events. This one gets my heart racing.
If you are New York Yankee fan you know exactly how pumped this can get you. Mariano Rivera one of the best closers of all time used to enter the field to this song and oh boy, was it cool.
Most of you will have no idea what this song is but it really gets me going. This remake of a hip-hop classic is one of the best I've heard. Beware it is more of a motivational piece than a pump up song.
The Intro is a song that has seemed to grow in popularity in part because of the fitness community. Intro by the XX has turned into a fitness anthem. Great for a pre-lift pump up sesh.
As of late Logic has burst on to the scene. He now has some really popular songs on the radio but this is one of his first mixes that people tend to forget about.
Are you about to set a new PR or maybe even a new world record? I personally guarantee you will lift more weight when this one is playing in your earbuds. A great build-up followed by a heavy metal classic.
This song was made popular a few years back. One of the Foo Fighters most popular songs and definitely one that needs to be included in your workout playlist.
What songs do you have on your workout playlist? Comment below with the name so we can add them to ours.
 
Did you just kill your workout and now you want some protein? Find us in a store near you.
Written by
Tate Glasgow
Co-Founder/Marketing Lead