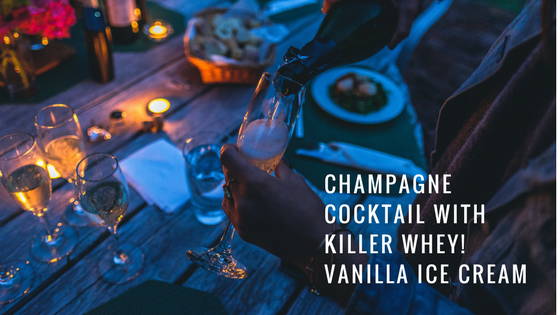 Be the star of the show this NYE with this champagne and Killer Whey! cocktail.
Servings 4 persons, Preparation time 0 minutes, Cooking time: 5 minutes
Ingredients
250 g fresh or frozen raspberries
4 scoops of Killer Whey! vanilla ice cream
200 ml champagne
Directions
Defrost raspberries if you are using frozen ones. Purée the defrosted raspberries with your blender.
Divide the purée over 4 cocktail glasses and add a scoop of vanilla ice cream into each glass.
Carefully pour in the champagne to make a separate layer on top of the raspberry purée.
Garnish with mint or more raspberries.
5 minutes preparation time
(if using frozen raspberries, allow for extra time to defrost before preparation)
 
Original recipe posted on www.usa.philips.com
Where can you find Killer Whey? Click the link to find the store nearest you.
Written by
Tate Glasgow