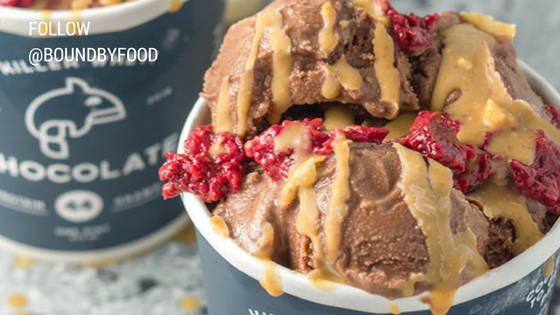 This is by far one of my best creations. I had the idea in my head to make a peanut butter and jelly chocolate ice cream but was a little worried it wouldn't turn out quite right. Well, I have to say I was more than happy with the end result and even impressed myself a little bit with how delicious it is.  The Chocolate Killer Whey! protein ice cream tastes amazing with peanut butter sauce and chia seed jam.

I don't know how I didn't think of dressing up chocolate ice cream with peanut butter and jelly before. It is so, so good. I made this one-afternoon last week and it was honestly a struggle not to eat it all at once. Especially when it started to melt, haha… Ice cream is hard to photograph! It's like it melts twice as fast as normal when I'm trying to get a good picture! I usually like to take my time when I'm photographing food but with ice cream, I have to be on top of my game.
For this dessert, I knew I wanted to do something with the Chocolate Killer Whey! protein ice cream and peanut butter. (You can use any kind of chocolate ice cream though). I had the idea of just making a peanut butter sauce but then spotted some forgotten raspberries sitting on the counter. And I thought that a raspberry chia seed jam would be delicious with the chocolate ice cream and peanut butter sauce. Of course, when I inspected the raspberries closer, they were all moldy and I had to toss them. But I was stuck on the pb&j idea….luckily I dug some frozen raspberries out of the freezer.
To make the chia seed jam, aka the "jelly", I dumped frozen raspberries into a saucepan and let them cook down by about half.   Actually, to be honest, I completely forgot about the raspberries after I started them. I turned the heat to low, covered the pan, and just started doing housework or something, I don't even know… So when I went back into the kitchen, they had boiled over, dripped down the side of the pan onto the burner, and splattered all over the stovetop and counter…. yep, raspberry juice everywhere. Luckily they didn't burn inside the pan and there was just the right amount to make the chia seed jam. If you're using fresh berries, you can add a little bit of water to the berries to help cook them down. After the berries are reduced, you add in chia seeds and let it sit to thicken up.
For the peanut butter sauce, I heated Adam's Natural Chunky Peanut Butter over low heat with coconut oil until both melted enough to easily mix them together. You could probably do this in the microwave instead of stovetop. The coconut oil peanut butter sauce is like a magic shell. The coconut oil hardens on the cold ice cream.
So to assemble, scoop up your ice cream (or just eat it out of the container) and drizzle with the coconut oil peanut butter sauce and scoops of the chia seed jam. And now you can never eat just plain chocolate ice cream again!

Peanut Butter and Jelly Chocolate Ice Cream Recipe

Chocolate ice cream drizzled with a coconut oil peanut butter sauce and chia seed "jelly"
Course: Dessert
Servings: 4 people
Author: Emily

Ingredients
Chia Seed Jam
1 cup Raspberries, frozen or fresh
1-2 tbsp Chia Seeds
1/4 cup Water (if using fresh berries)
Peanut Butter Sauce
1/3 cup Peanut Butter
1 tbsp Coconut Oil

Instructions
Chia Seed Jam
Place berries in a small saucepan over low-medium heat. If you're using fresh berries, add water.  
Heat the berries until they start to simmer and then reduce heat to low. Cook the berries over low heat until they are soft enough to mash with a fork and reduced by about half.
Remove from heat and stir in chia seeds. Transfer to a small bowl and cover.
Chia seed jam will keep in the refrigerator for a week.
Peanut Butter Sauce
Heat peanut butter and coconut oil over low heat in a small saucepan.
Continue to heat until peanut is soft and coconut oil has melted. Stir well to combine. Remove from heat and let cool. When cool, drizzle over ice cream.
Peanut butter sauce will harden in the refrigerator.  
Peanut Butter and Jelly Chocolate Ice Cream
Drizzle peanut butter sauce over chocolate ice cream.
Top with chia seed jam
Enjoy!!
Please visit boundbyfood.com for more awesome recipes from this author!
Where can you find Killer Whey? Click the link to find the store nearest you.