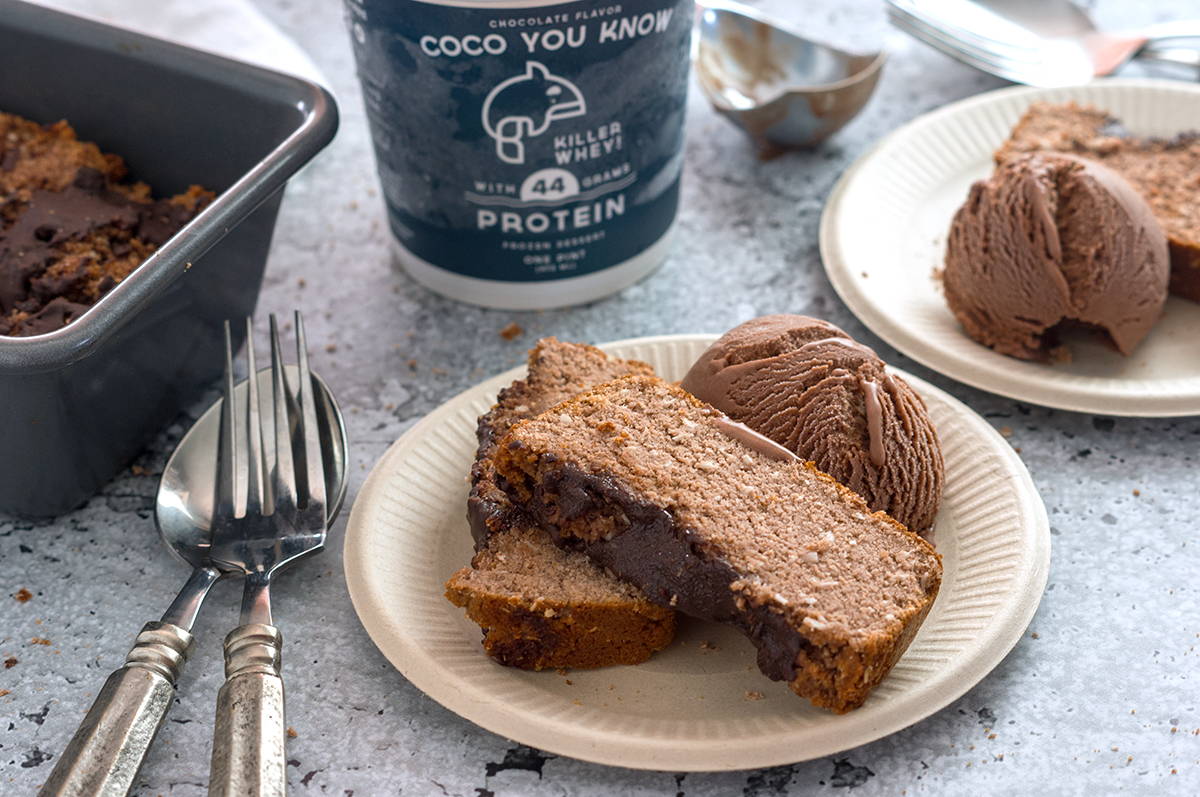 Ice cream bread is such an interesting concept to me. You melt a pint of ice cream, add self-rising flour, maybe a fun add-in, and then bake. That's it. Honestly, I'd never heard of it until my best friend Kendra told me about it. But then I was kind of fascinated by the idea.
So I decided to make a healthier version of ice cream bread using Killer Whey! Protein Ice Cream.  
All the ice cream bread recipes I researched used a pint of ice cream and 1¼ cups of self-rising flour. Some recipes added chocolate chips or sprinkles. The simplicity of the recipe is what sells most people. Just mix melted ice cream and flour together and then bake.
You can use any flavor ice cream you like. I came across a butter pecan ice cream bread that looked amazing! But I decided to go with chocolate. Shocking, I know….
This recipe is also low carb. I used almond flour and coconut flour in place of self-rising flour. So then you have to add baking powder and salt. And I decided to add unsweetened coconut flakes, and top the bread with a little bit of dark chocolate. Oh, and I added an unsweetened whey protein powder. It's seriously delicious! But not the simple two ingredient recipe like most ice cream breads. But still pretty easy to make and much healthier.
I do have to tell you that the bread is a little dry. Seems like that's a common problem with ice cream bread from my research. The solution, of course, is to just top the bread with ice cream! And then it's absolutely perfect. Low carb ice cream bread topped with Killer Whey! Protein Ice Cream - one of the best ice cream desserts ever!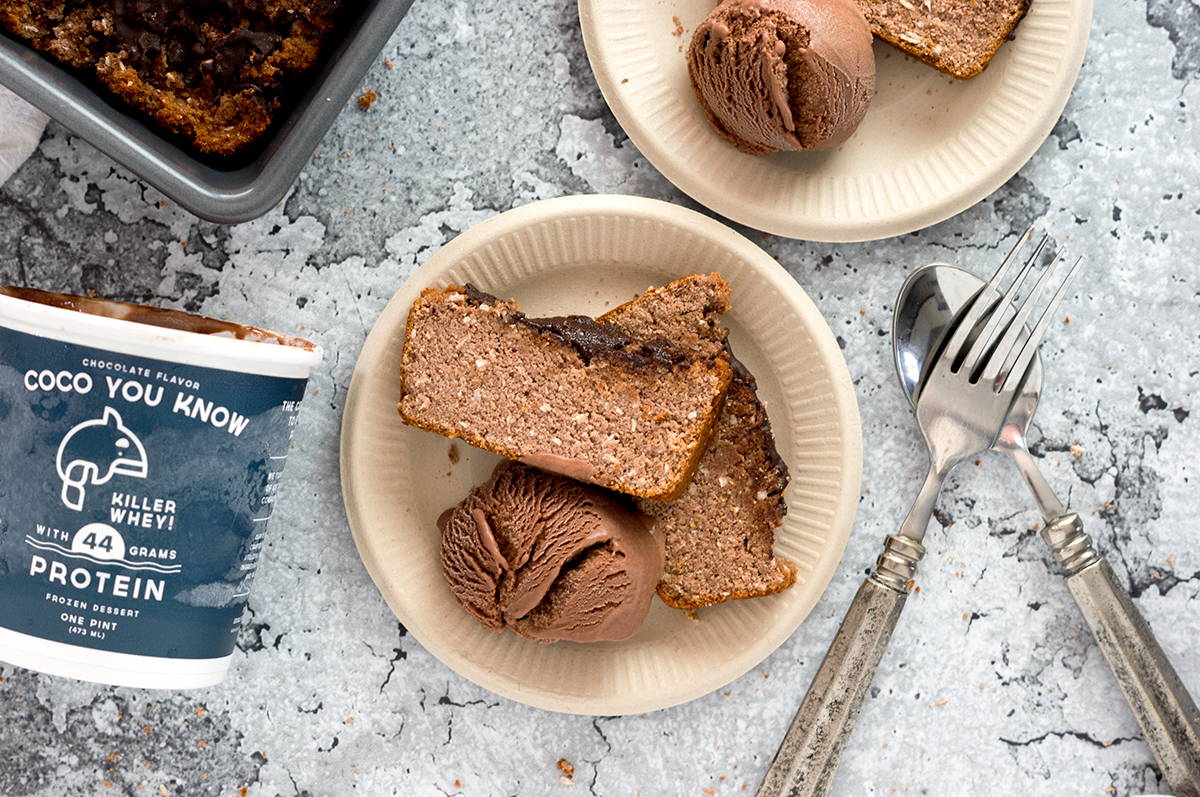 Low Carb Chocolate Coconut Ice Cream Bread with Killer Whey!
Servings: 10
Time: 45 minutes
Nutrition: 166 calories, 11g protein, 12g carbs, 10g fat
Ingredients:
1 pint of Cocoa You Know Killer Whey! Chocolate Protein Ice Cream

¾ cup almond flour

½ cup coconut flour

½ tsp baking powder

¼ tsp salt

¼ cup unsweetened shredded coconut

2 scoops plain whey protein powder

1 tsp vanilla

1 ounce dark chocolate, chopped
Directions:
Set the pint of Killer Whey! Protein Ice Cream on the counter to melt.

Preheat the oven to 350 degrees fahrenheit.

In a large bowl, mix together almond flour, coconut flour, baking powder, salt, unsweetened coconut flour, and whey protein. Add in melted ice cream. Stir to combine.

The batter will be thick. Transfer batter to a greased 8"x4" bread loaf pan.

Bake for 35-40 minutes until bread is set and toothpick inserted into the center of the bread comes out clean. Remove from oven.

Immediately top with chopped dark chocolate. Let chocolate melt.  

Let bread cool and then slice.

Serve with scoops of Killer Whey! Protein Ice Cream.

Enjoy!