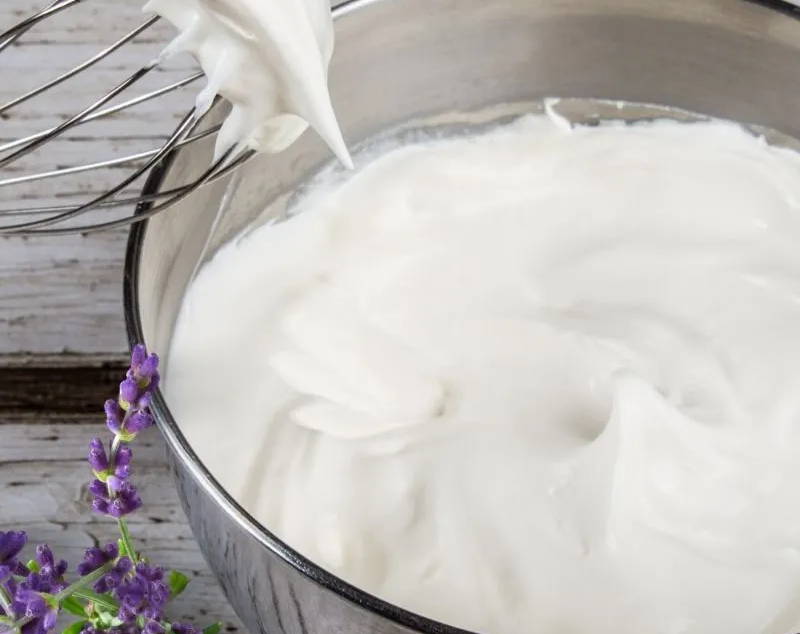 April showers bring May flowers and I'm so excited to see how my garden turns out this summer. This year's social distancing gave me an opportunity to really focus on my garden. Several weeks ago I sprouted a bunch of greens, herbs and flowers that I'm ready to plant but the best part is my oregano, mint and lavender made it through the winter and are already thriving.
Lavender is a versatile perennial plant that is part of the mint family. You can find lavender in hundreds of household products including soap, skin care, essential oil, and also has culinary applications. It's versatility makes for a great addition to your garden that you can enjoy for years to come. One of my favorite ways to use lavender is in champagne and although I haven't had that in quite awhile, I am working on a low carb version of a lavender syrup made with keto sugars to dress up any summer cocktail.
But until then, this whipped cream is a quick and easy dessert topping that only has a few ingredients. You will need a high-quality heavy whipping cream, keto approved sugar, vanilla and lavender extracts. Keeping different flavoring extracts on-hand allows you to change up the flavors to suit your taste. I love this delicate and aromatic cream that can be used on ice cream, over berries, in tea, or try putting it on keto waffles with a drizzle of monk fruit syrup. Having a hand mixer makes this a breeze to make but you can also whip it by hand.
Vanilla Lavender Whipped Cream
1 cup organic whipping cream
1 tablespoon allulose or keto approved sweetener (more to taste)
1 teaspoon vanilla extract
1 teaspoon lavender extract
For Whipped Cream:
Combine all ingredients in a chilled mixing bowl. Beat on medium-high speed until soft peaks form. Refrigerate.
Nutrition: Serving size: 1 tablespoon, Servings: 16
Calories: 54, Fat 7g, Net Carbs >1
Hop on over to over find us page to grab your pints now and make sure to tag us @killercreamery in your insta worthy photos.