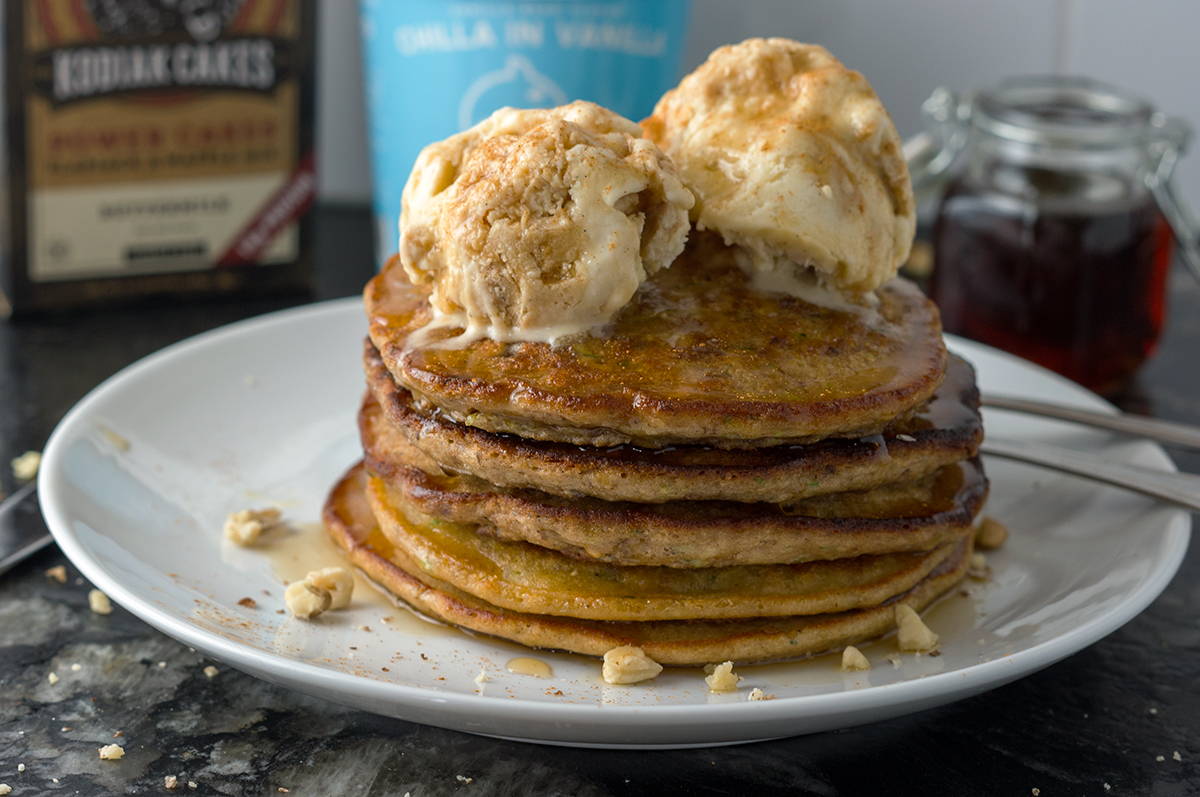 I love zucchini bread. Killer Whey! Protein Ice Cream with Zucchini Bread Kodiak Cakes Power Cakes might become a weekend staple for the rest of the summer.
As a child, one of the best parts of summer was when my mom would make zucchini bread. The entire house smelling like cinnamon, sugar, and spice. And then eating the zucchini bread fresh out of the oven, slathered in butter.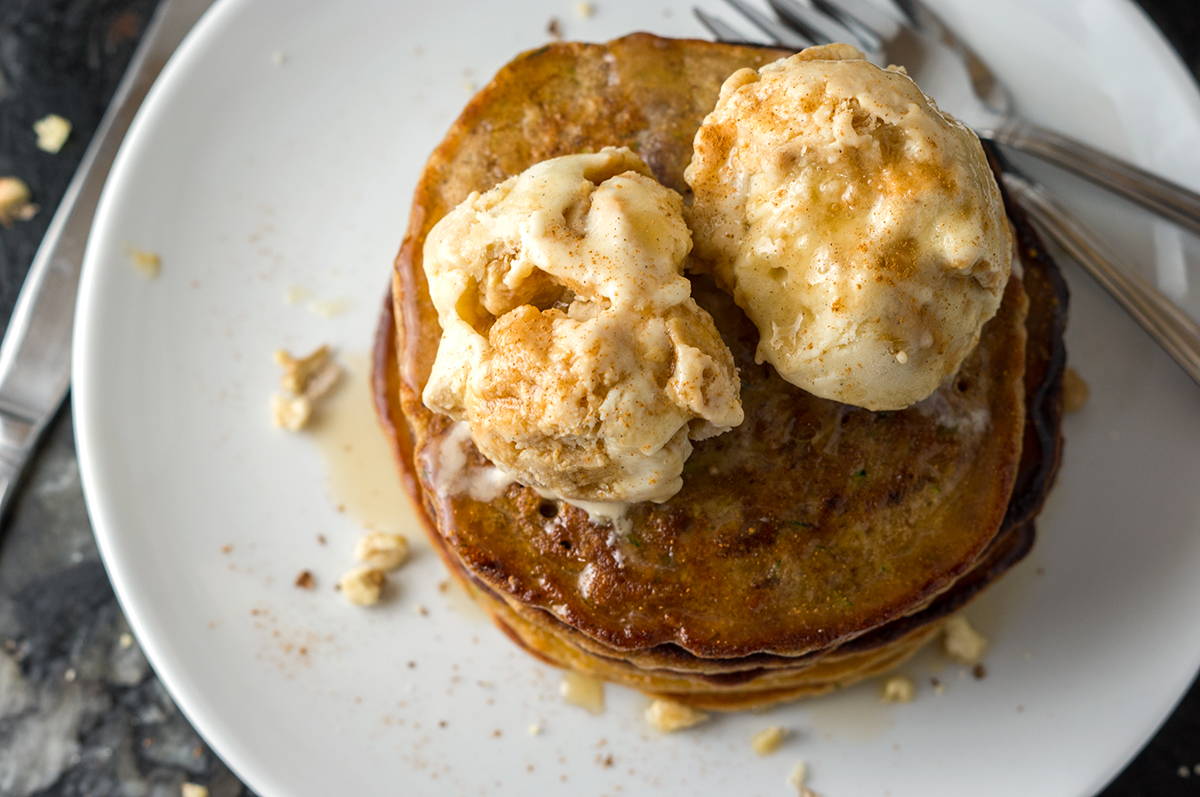 Unfortunately, the zucchini bread I grew up eating is loaded with sugar and carbs, just like all quick breads and muffins. It's been years since I've had zucchini bread or made it myself. I was going to try making a paleo zucchini bread with almond flour but instead had a craving for pancakes and decided to add shredded zucchini to Kodiak Cakes Power Cakes to make zucchini bread pancakes. Best decision ever!
If you're in Idaho, getting fresh zucchini shouldn't be a problem right now. Everybody and anybody has a plethora of zucchini to share. Depending on how many pancakes you want to make, you'll probably only need one small or medium sized zucchini.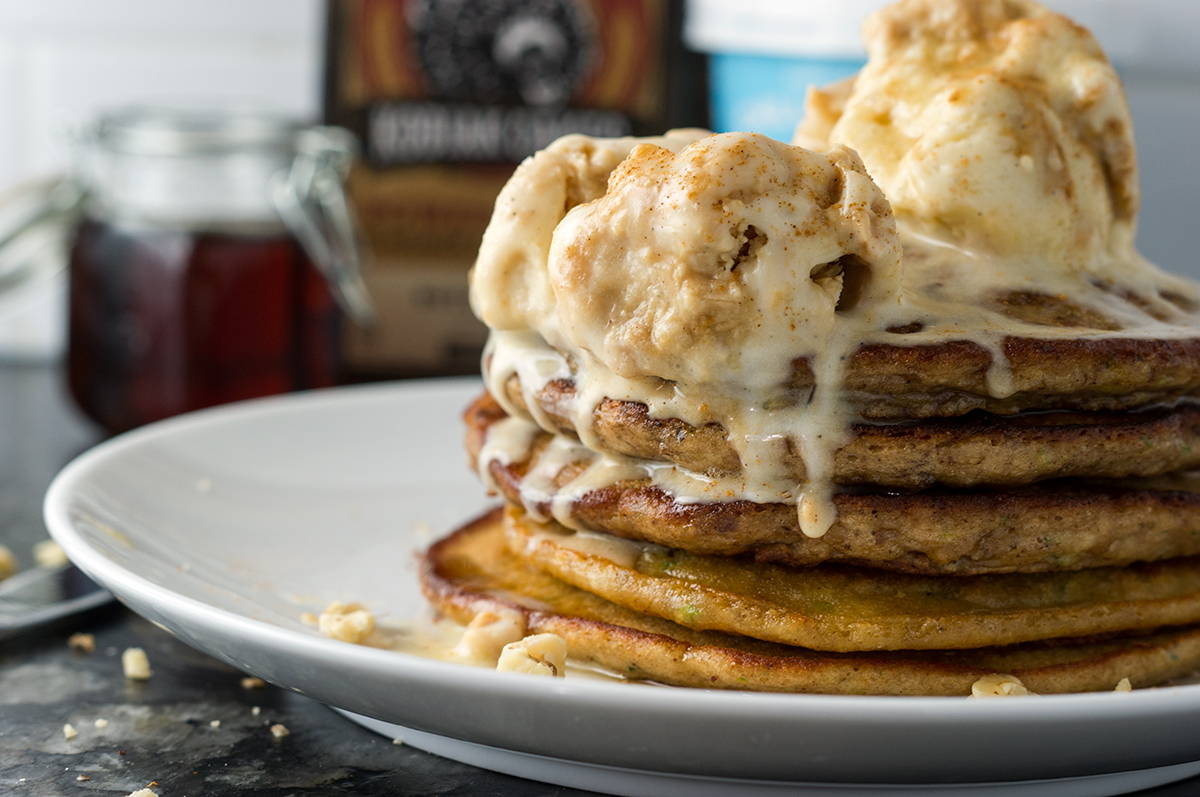 For this recipe, I used a sample size box of Kodiak Cakes Power Cakes, which makes two servings. I added a half cup of shredded zucchini to the pancake mix, which I got from one small zucchini. Make sure to get as much of the moisture out of the zucchini as possible. I just placed the shredded zucchini in a couple of paper towels and squeezed the water out over the sink. I also added in cinnamon, nutmeg, cloves, and chopped walnuts to the pancakes. And of course I topped them with Killer Whey! Protein Ice Cream, a little drizzle of maple syrup, and a sprinkle of cinnamon.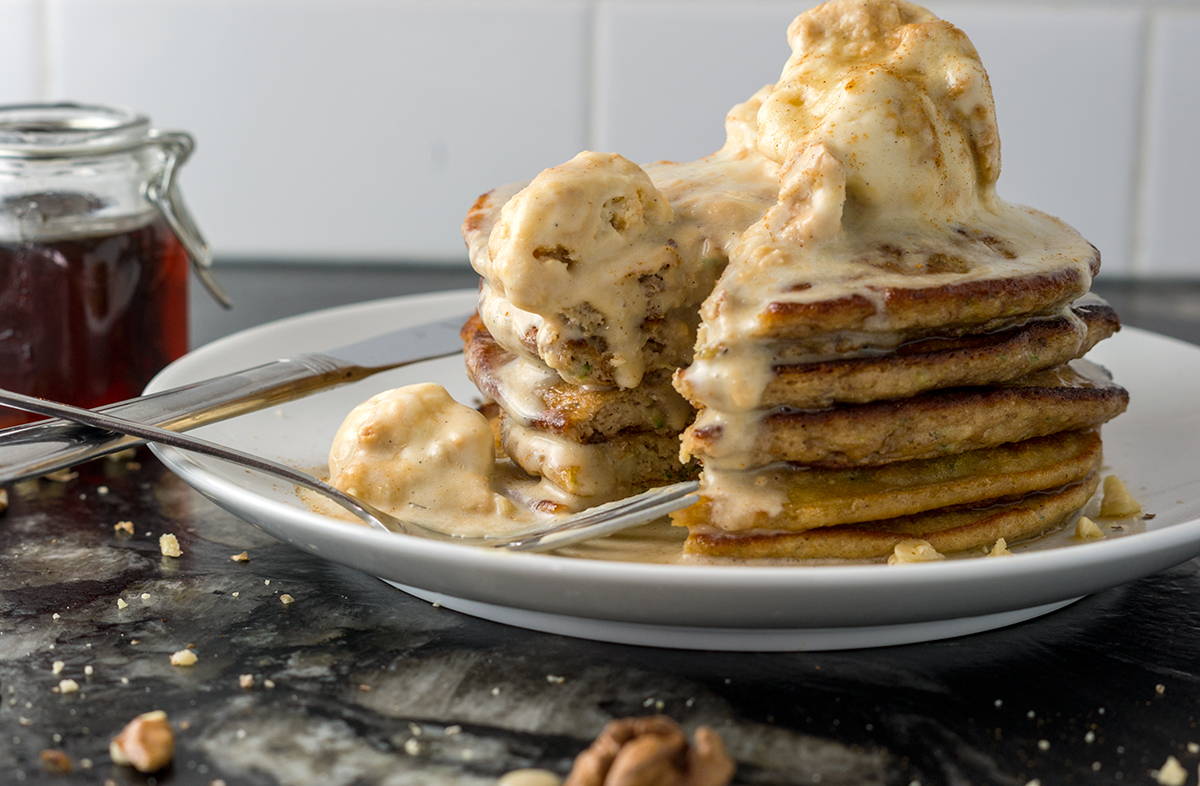 KILLER WHEY! WITH ZUCCHINI BREAD KODIAK CAKES POWER CAKES
Makes: 2 servings
Nutrition: 575 calories, 33 grams protein, 47 grams carbs, 18 grams fat
Ingredients:
1 cup of Kodiak Cakes Power Cake mix

1 cup of milk or water

1 egg, beaten

½ cup of shredded zucchini, water squeezed out

1 tsp cinnamon

¼ tsp cloves

¼ tsp nutmeg

½ cup walnuts, chopped

1 cup Killer Whey! Protein Ice Cream - Chilla in Vanilla or flavor of choice

2 tbsp real maple syrup

Butter
Directions:
In a medium sized bowl, whisk together Kodiak mix, milk, and egg. Do not over mix. Just mix until no large clumps.

Fold in shredded zucchini, cinnamon, cloves, nutmeg, and walnuts until just combined.

Heat 1-2 tsp butter in a skillet over medium heat. Pour ¼ cup batter into skillet for each pancake. Flip when small bubbles start to form in the batter and edges of pancake can easily be lifted with a spatula.  

Melt more butter in the skillet as needed to cook the remaining pancakes.

Top pancakes with ½ cup of Killer Whey! Protein Ice Cream, drizzle with maple syrup, and sprinkle with cinnamon to serve.

Enjoy!