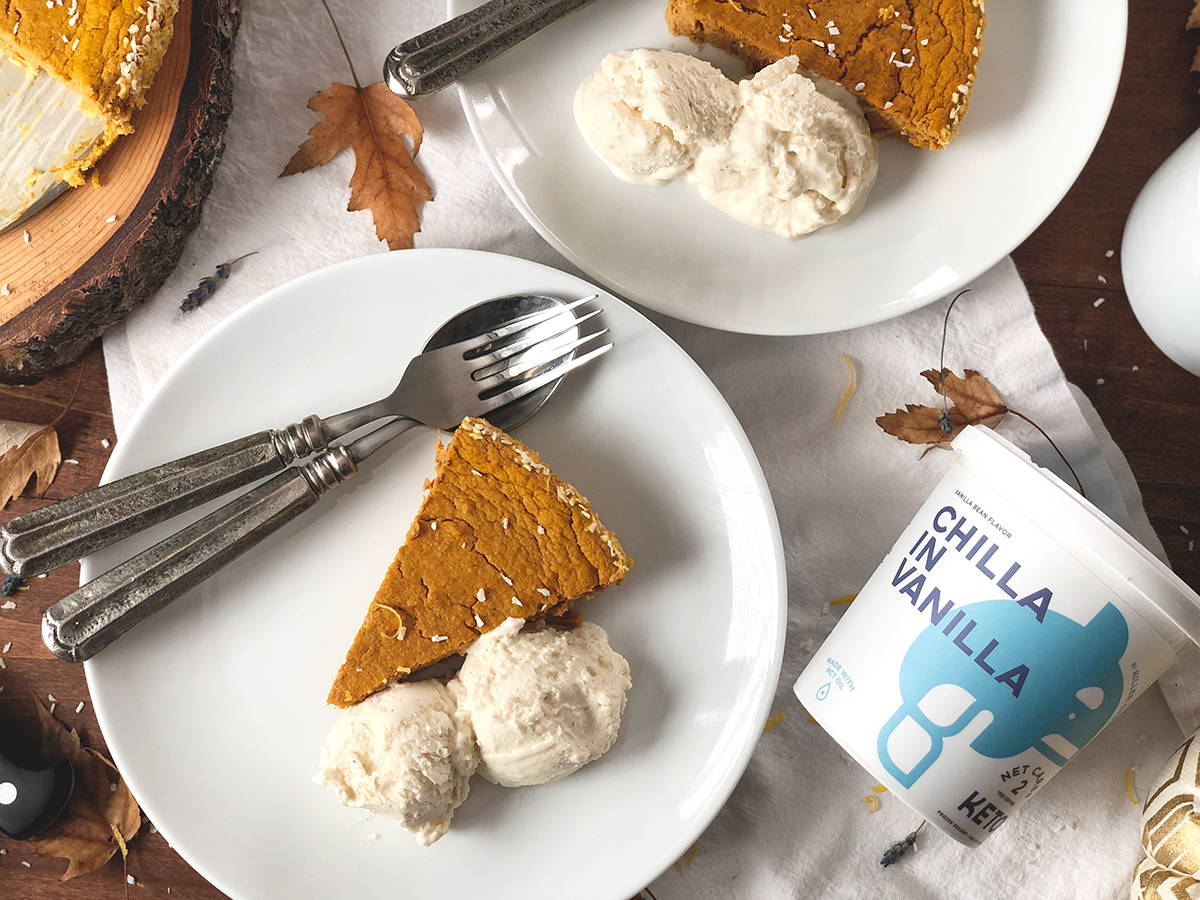 If you're following a keto diet and want to enjoy a piece of pumpkin pie on Thanksgiving, this recipe is for you. I've made this recipe several times, and it's always a hit. People don't even realize that it's low carb. And it's simple to make, especially since it's crustless. This will become your go-to keto pumpkin pie recipe.

Because this keto pumpkin pie is crustless, it hardly takes any time to make. If you would like to make it with a crust, I'd recommend this walnut crust that I used for the Keto Walnut Crust Tartlets.
You can use real pumpkin or canned pumpkin to make this keto pumpkin pie.  The original recipe calls for fresh pumpkin but I made it with canned pumpkin because I wanted to keep the recipe super simple.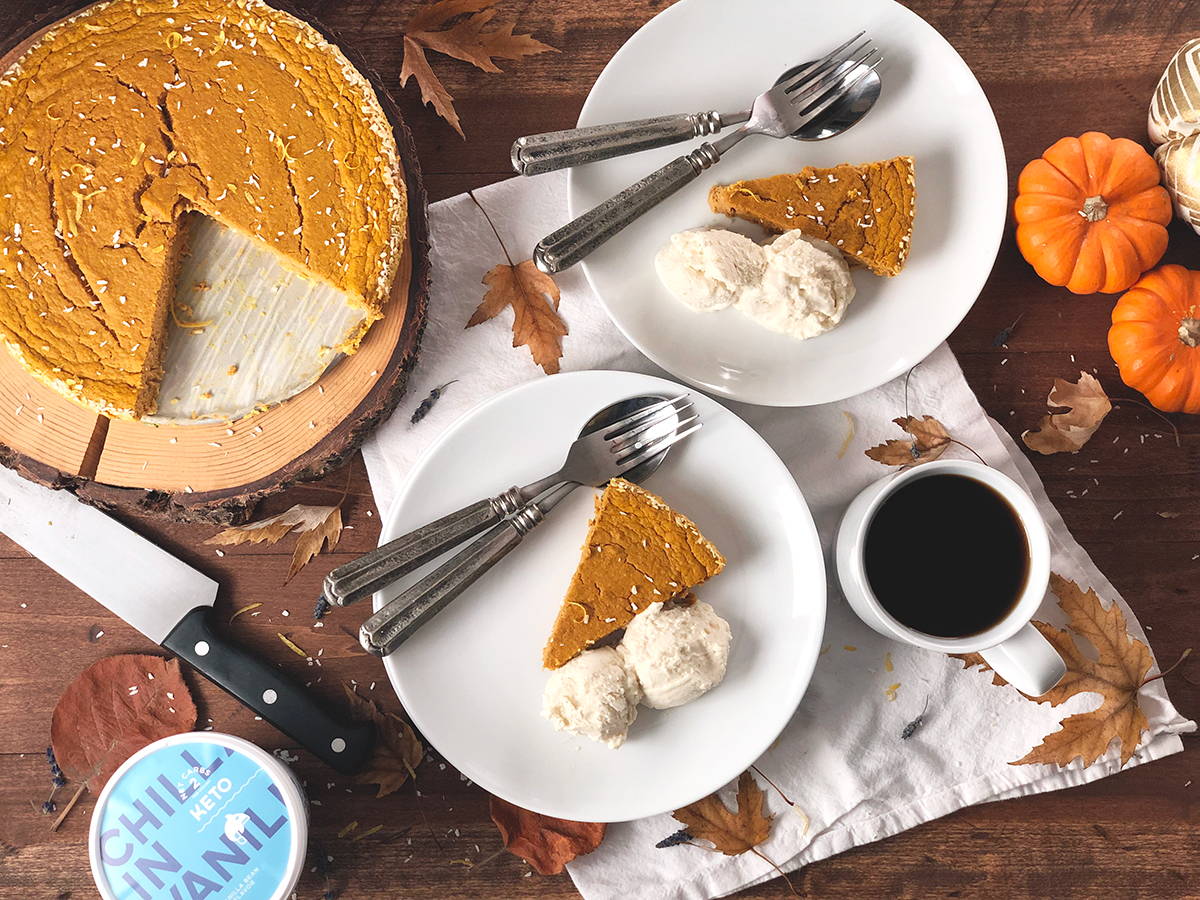 To make this keto pumpkin pie you will need:
Canned pumpkin puree

Heavy whipping cream

Butter

Vanilla

Salt

Pumpkin pie spice

Coconut flour

Baking Powder

Lemon Zest

Eggs

Unsweetened coconut flakes
The best part about this pie is that you butter the pan and then coat the pan with coconut flakes. It's almost like the pie has a very thin coconut crust. And the lemon zest in the pie is so good. Honestly, I was a little skeptical of having lemon zest in my pumpkin pie but it's delicious and adds a bright burst of flavor.  

And of course you need to top this keto pumpkin pie with Chilla in Vanilla Keto Killer Whey! Ice Cream. Make this keto pumpkin pie part of your Thanksgiving meal this year. Guarantee that it will become a staple.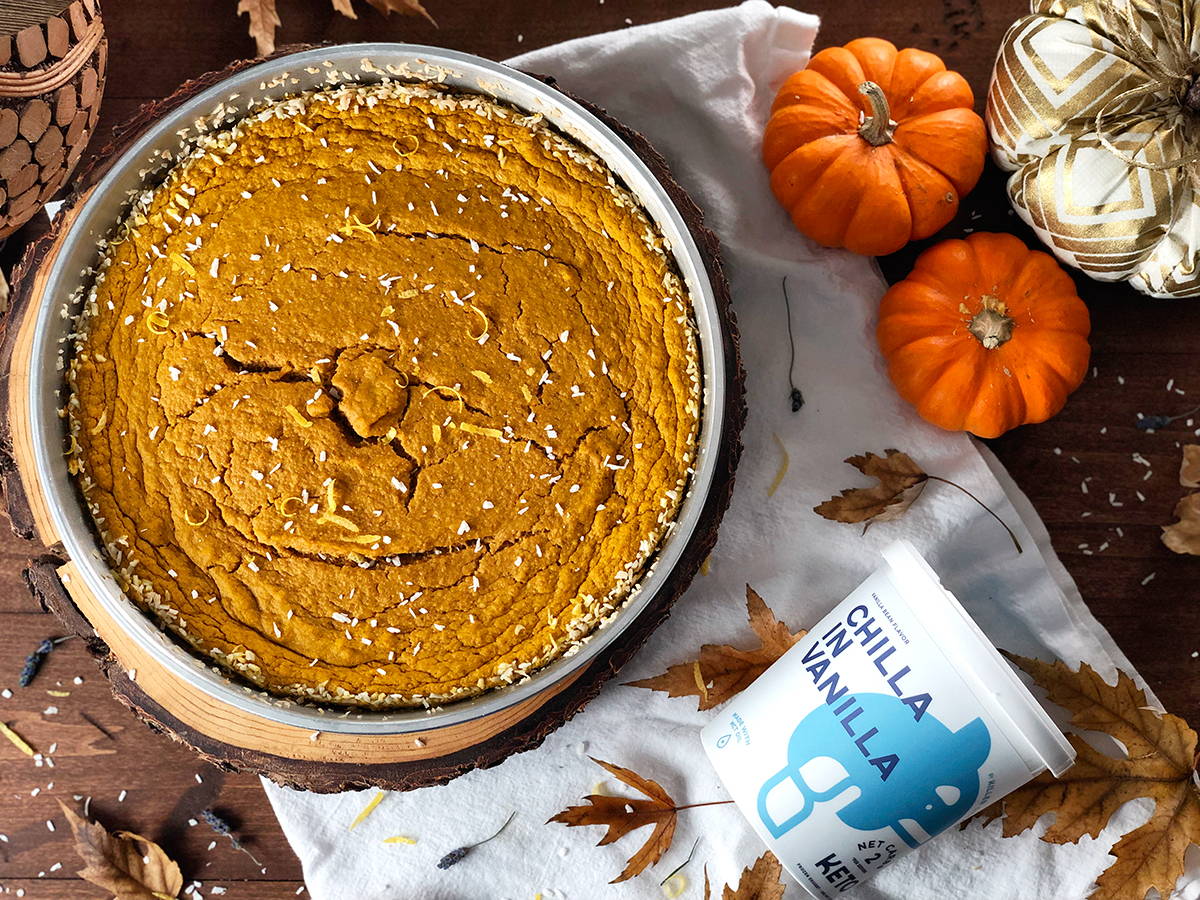 KETO PUMPKIN PIE RECIPE
Servings: 10
Nutrition (pie only): 132 calories, 10.8 grams fat, 2.6 grams protein, 4.2 grams net carbs (6 g carbs, 1.8 g fiber)
Ingredients:
1 - 15 ounce can of pumpkin puree

⅔ cup heavy whipping cream

2 tbsp butter

2 tsp vanilla

¼ tsp salt

2 tsp pumpkin pie spice

2 tbsp coconut flour

Lemon zest from ½ lemon

1 tsp baking soda

3 eggs

4 tbsp unsweetened coconut flakes

Butter to grease the pan
Directions:
Preheat oven to 400 degrees.

Butter a 9-inch pie pan or springform pan. Add unsweetened coconut flakes to the pan and rotate the pan to coat evenly coat with coconut flakes.

Place the canned pumpkin, heavy cream, and butter in a saucepan over medium heat. Stir until butter melts and pumpkin and heavy cream are well combined. Add in vanilla, salt, pumpkin pie spice, coconut flour, lemon zest, and baking soda. Mix well.

In a separate bowl, beat eggs with an electric mixer until foamy.

Add pumpkin mixture to eggs and stir well.

Pour the batter into the prepared pan.

Bake for 20 - 25 minutes until set in the middle.

Serve with Chilla in Vanilla Keto Killer Whey! Ice Cream.

Enjoy!