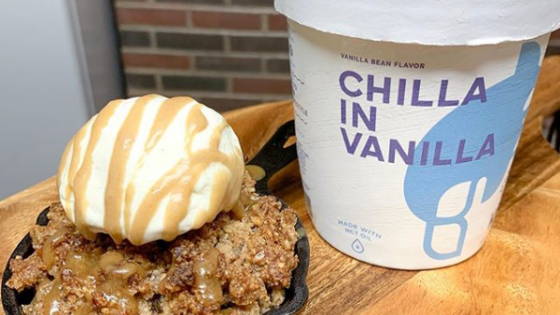 Is fall even fall without the smell of a freshly baked keto-friendly Apple Crisp filling your house at some point? We don't think so, and neither did Anyela from @anyelaskitchen.
Anyela crafted the perfect seasonal treat for her family and friends and is letting us share it with #OurPod! Isn't this community AMAZING?! Her latest recipe may become a family favorite when you serve it up with some Killer Creamery Chilla In Vanilla Ice Cream as your next secret-recipe. This could even be the perfect dessert at Thanksgiving or your yearly hosted Friendsgiving.
Give it a try and if you create a masterpiece make sure to share with us in the comments below!
Apple filling:
3 small zucchini squash (475g)

2 ½ tbsp lemon juice

2 tbsp butter

¼ cup granulated erythritol

1 tsp ground cinnamon

¼ cup water

½ tsp xanthan gum

Dash of salt
For the Crisp:
4 oz pecans

1/3 cup almond flour

¼ tsp salt

3 tbsp brown sweetener

1 tsp ground cinnamon

Dash of ground cloves (optional)

Dash of nutmeg (optional)

4 tbsp butter
Instructions:
Preheat your oven to 350F.
Make the "apple" filling:
Peel, remove seeds and dice your zucchini into ¼ inch cubes. In a medium saucepan over medium-high heat, add your zucchini, lemon juice, butter, and erythritol. Cook for around 5 minutes, then add water, cinnamon, and salt. Cover and cook for around 15 minutes, then add (sprinkle) xanthan gum and stir until it is thickened. You can cook for an additional 1-2 minutes if you think it needs to be thicker. Take off the heat and add to a small baking dish.
Make the crisp:
In a food processor add your pecans until chopped into small pieces (should look like almond flour). Using a large bowl add all of your ingredients, except for the butter. Combine well. Add the butter in small pieces and press with your knuckles until well incorporated.
Crumble the crisp dough on top of the "apple" filling in an even layer and bake for 25 minutes or until crisp layer starts to brown.
Let cook for at least 10 minutes or until crisp layer hardens. Filling inspo from @karlagoesketo.
Did you love this recipe? Have one you would like to share with us? Email us at info@killercreamery.com for a chance to get your recipe featured.