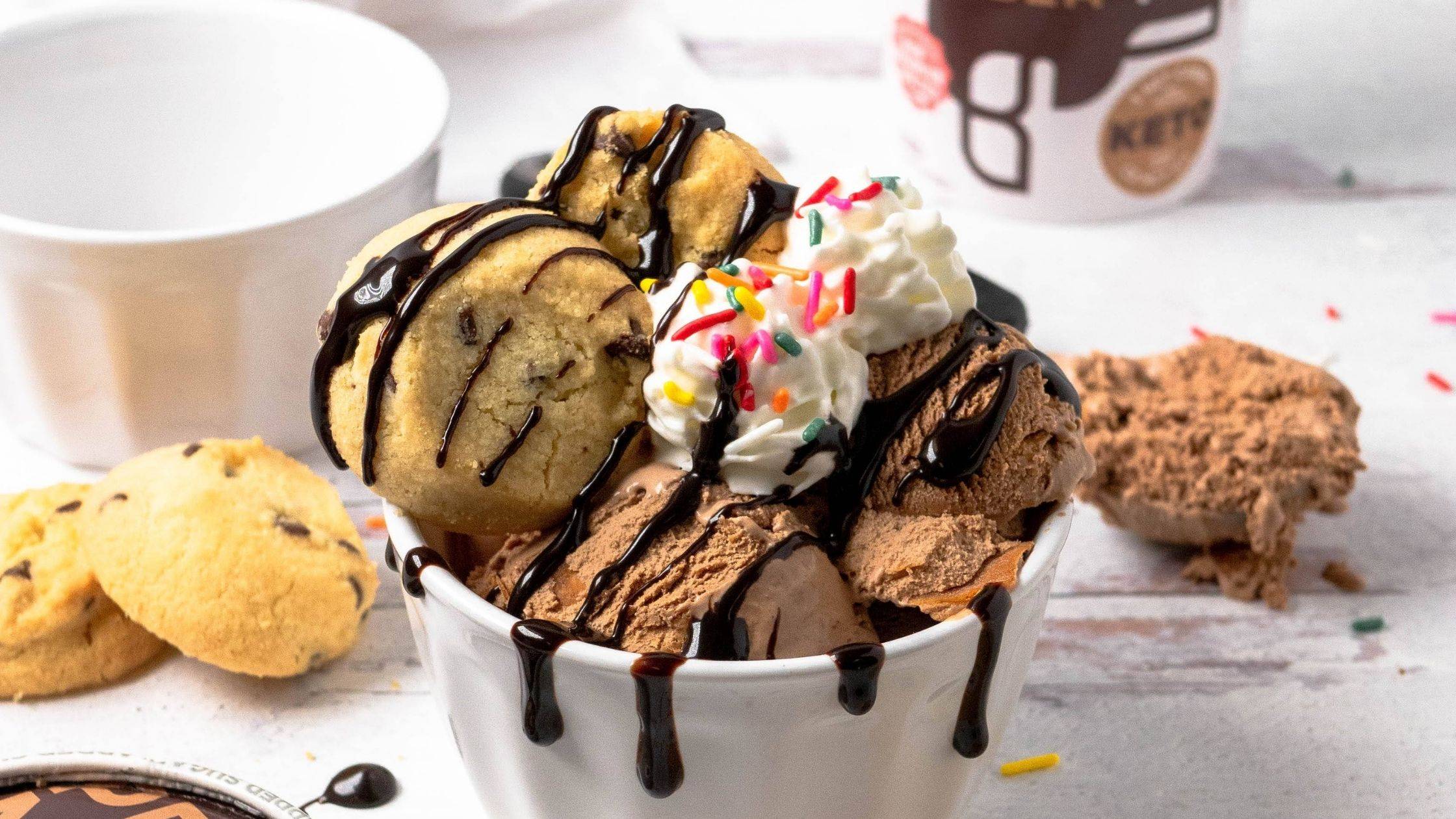 Summer has come and gone and now that school is back in session, we are looking for a healthy keto sweet treat to look forward to after classes. Whether classes are organized through virtual learning or students are attending in-person classes, there's no better feeling after a long day in the classroom than coming home, unwinding and making an after school snack. But instead of reaching for a bag of chips or a candy bar, why not prepare something a little healthier, and a lot more fun??
Whether you're going low carb, following a keto diet or just trying to be a bit healthier without making sacrifices, we've got the after school snack for you…
*drumroll please*
You guessed it, it's an EPIC keto ice cream sundae!! While healthy low-carb smoothies and shakes are all the rage now, when it comes to treating ourselves, we stick to the classic sundae. Although all ice cream sundaes are fun, not all are created equal. Instead of loading up on sugar after school, give your body what it needs (and wants) after a long day of learning. Made with cream and zero added sugar, Killer Creamery ice cream sundaes will fill you up without weighing you down. Unlike most traditional ice creams, each of our ice cream flavors are made with premium ingredients that will leave you feeling full without being weighed down and drowsy - perfect for if there's homework to work on afterwards.
Now, for the fun part!
Here are our best tips and tricks for making a healthy and keto-friendly sundae.
Our Top Tips For The Perfect Killer Creamery #Keto Sundae
One flavor of our ice cream for your sundae base will do, but mixing flavors opens up endless combinations! Pair your favorites together and see what flavor combinations speak to you the most.
Think about the textures you want to include in your sundae. We recommend letting your ice cream sit out for a few minutes to soften so you can mix in toppings like keto cookies or nuts. This will really make your ice cream feel extra homemade and decadent.
Grind up other keto desserts like cookies or brownies and add on top for an added crunch to your sundae. We love High Key mini cookies or Fat Snax Cookies
If you're feeling fruity, sprinkle on some keto-friendly berries, such as blackberries or raspberries.
Go for a low carb and low fat topping option with freshly whipped cream. You'll want to select an unsweetened whipped cream or give it some sweetness with a keto-friendly sweetener of your choice.
Be sure not to forget the final toppings, such as chopped nuts, low-carb or keto chocolate/caramel sauce and a few sprinkles. Don't forget to top with a cherry for that classic sundae look.
Don't skimp out on chocolate. If you're a chocolate lover, might we recommend adding in some chocolate pieces? Evolved Keto Cups and Lily's chocolate bar pieces are great choices for those trying to keep carbs and sugar down.
Share your sundae with a friend or make sundaes as a group! If you're not in the mood for an entire sundae to yourself, (banana) split your keto ice cream sundae with a friend or family member. Or better yet, have company over to make sundaes together. If you have a sundae party, make sure to take photos as tag us on Instagram using #KillerCreamery.
A good-looking sundae requires some doing, but when it comes to flavors there are no wrong decisions. I scream, you scream, we all scream for Keto Ice Cream Sundaes!
Health Benefits From A Killer Creamery Ice Cream Sundaes!
The great thing about making an ice cream sundae with Killer Creamery is that our ice creams only contain Allulose, Erythritol, and Monk Fruit as sweeteners, making them diabetic friendly and enjoyable by all. We want all of our ice creams to be sweet and delicious, but we made sure not to cut corners in terms of ingredients. By choosing Monk Fruit and Allulose over traditional sugar, all flavors of Killer Creamery won't spike your blood sugar or elevate your glucose.
What's even better about our ice cream and ice cream sundaes is that they are loaded with MCT (Medium Chain Triglycerides) oil, an oil that your body can rapidly convert to ketones. Ketones are an alternative energy source that are produced by the body when in a fasted state or on a ketogenic diet. What's even more exciting about MCT oil is the added benefits it can have on your brain function. The ketones from MCT oil can readily pass through your blood-brain barrier, making them a reliable source of energy for your brain cells - perfect for if you're pairing a Killer Creamery ice cream sundae with some extra school work. With a Killer Creamery sundae you're not only getting a healthy sweet treat to enjoy after school, but your body will also be benefiting by receiving an extra boost of energy.
Because our ice cream is made with pure C8 MCT Oil this sundae will be sure to hold you over until dinner. Alternatively, our sundaes make for great after-dinner desserts too!
Go crazy with your sundae's and tag us using #KillerCreamery and #ThePod on Instagram to have your sundae featured in our feed and to be entered to win free pints of our ice cream!
More from Killer Creamery:  
Check out our entire line of ice cream flavors that contain ~14g of fat, 2-3 net carbs, C8 MCT oil sourced from coconut, and zero added sugar.