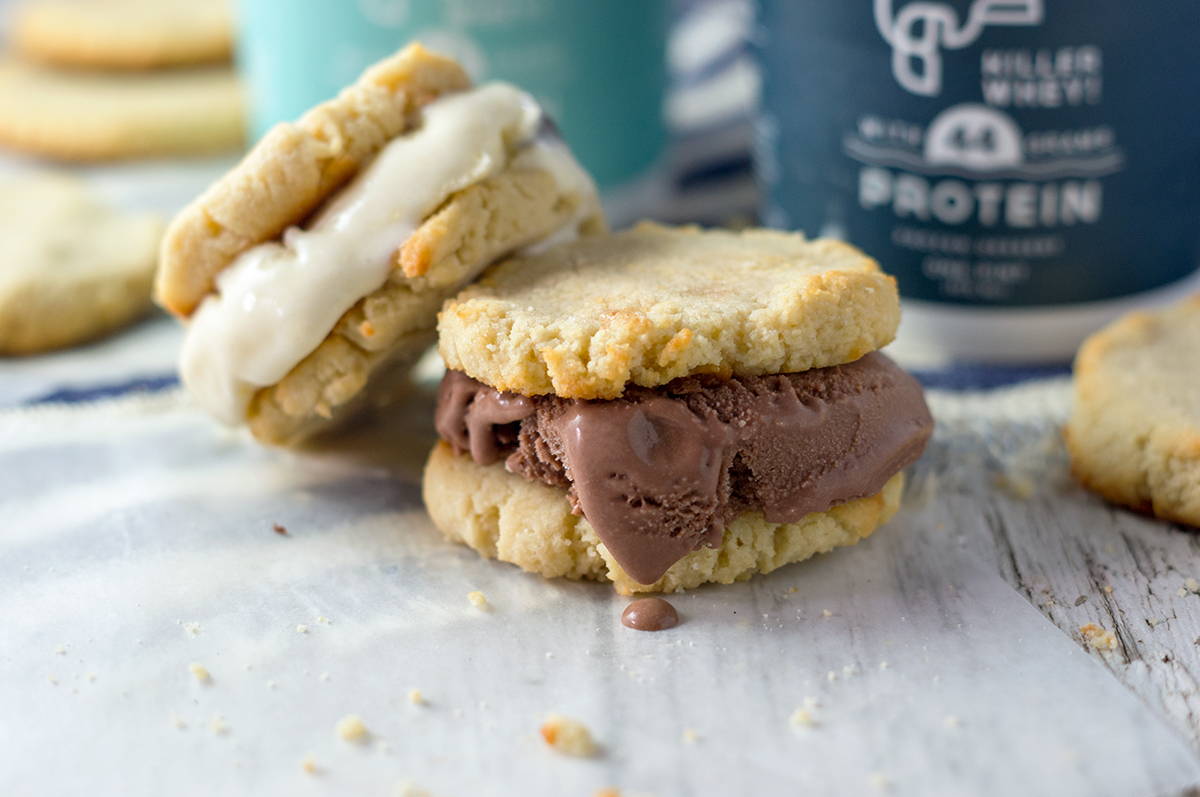 Cookies are my favorite dessert. I don't make them very often anymore because I tend to lack self-control when I have a batch of cookies in the house. I generally only make them when I can share. But with the warmer weather, I have been craving ice cream sandwiches. And there's nothing better than homemade ice cream sandwiches, especially if you use Killer Whey! Protein or Keto Ice Cream with these Low Carb Keto Cream Cheese Cookies. The perfect healthy summer dessert!
These cookies are easy to make. They only have six ingredients - cream cheese, erythritol, an egg, almond flour, butter, salt, and vanilla. The flavor of the cookies is mild - think shortbread/sugar cookie. Which means that you can pair them with any Killer Whey! Protein or Keto ice cream flavor you like!
I recommend making a full batch of these cookies and then freezing any extras so that you can make ice cream sandwiches whenever you want. That's what I did! There's nothing wrong with having an endless stash of keto low carb cookies that you can eat or use for ice cream sandwiches.
These would also be fun to have at a summer barbeque. You could set up a "ice cream sandwich bar" with the keto low carb cookies and all the Killer Whey! Ice Cream flavors and let people make their own ice cream sandwiches. Or make a bunch of ice cream sandwiches in advance and keep them in the freezer until you're ready to serve them to guests.
Another good thing about these cookies is that they are versatile, you can add in different flavors and get creative with them. For example, you could use almond or lemon extract in place of vanilla. You could even add lemon or orange zest. Any kind of chopped nuts would be delicious folded into the batter. Or sprinkle the cookies with cocoa powder or low sugar chocolate chips before baking. These cookies are great base recipe for a variety of low carb desserts.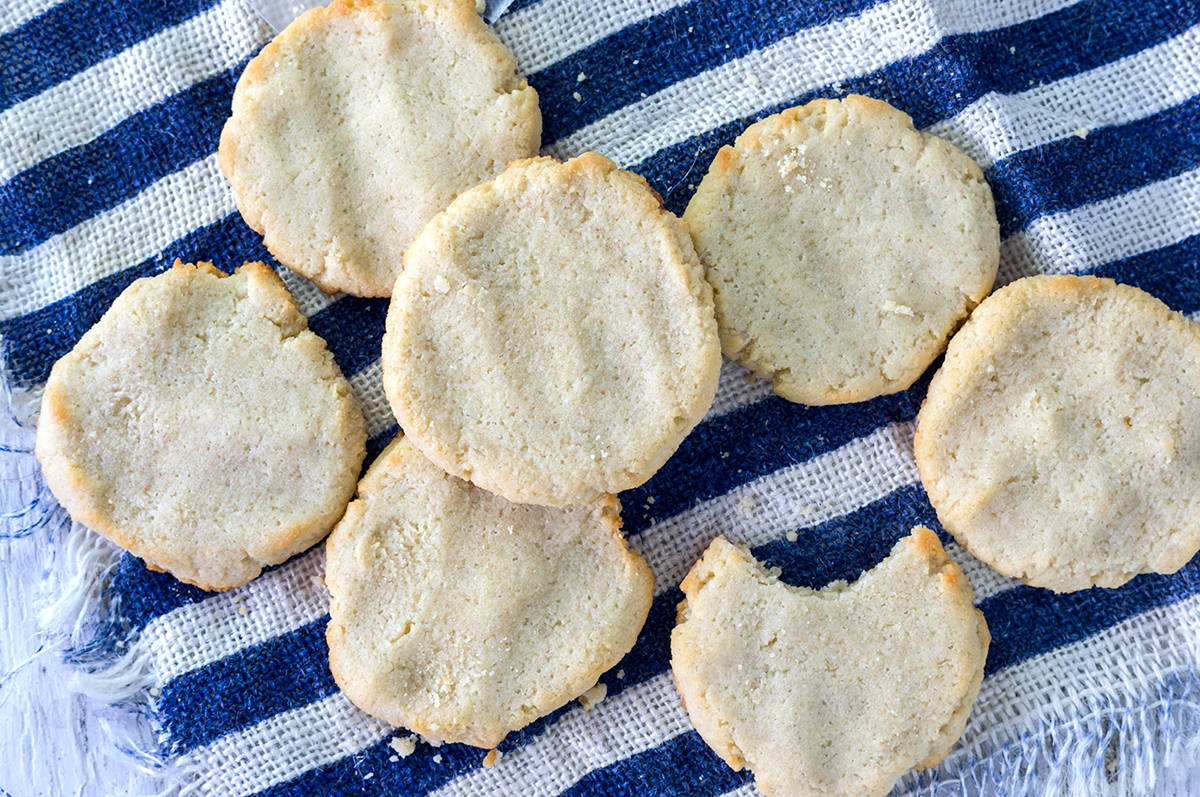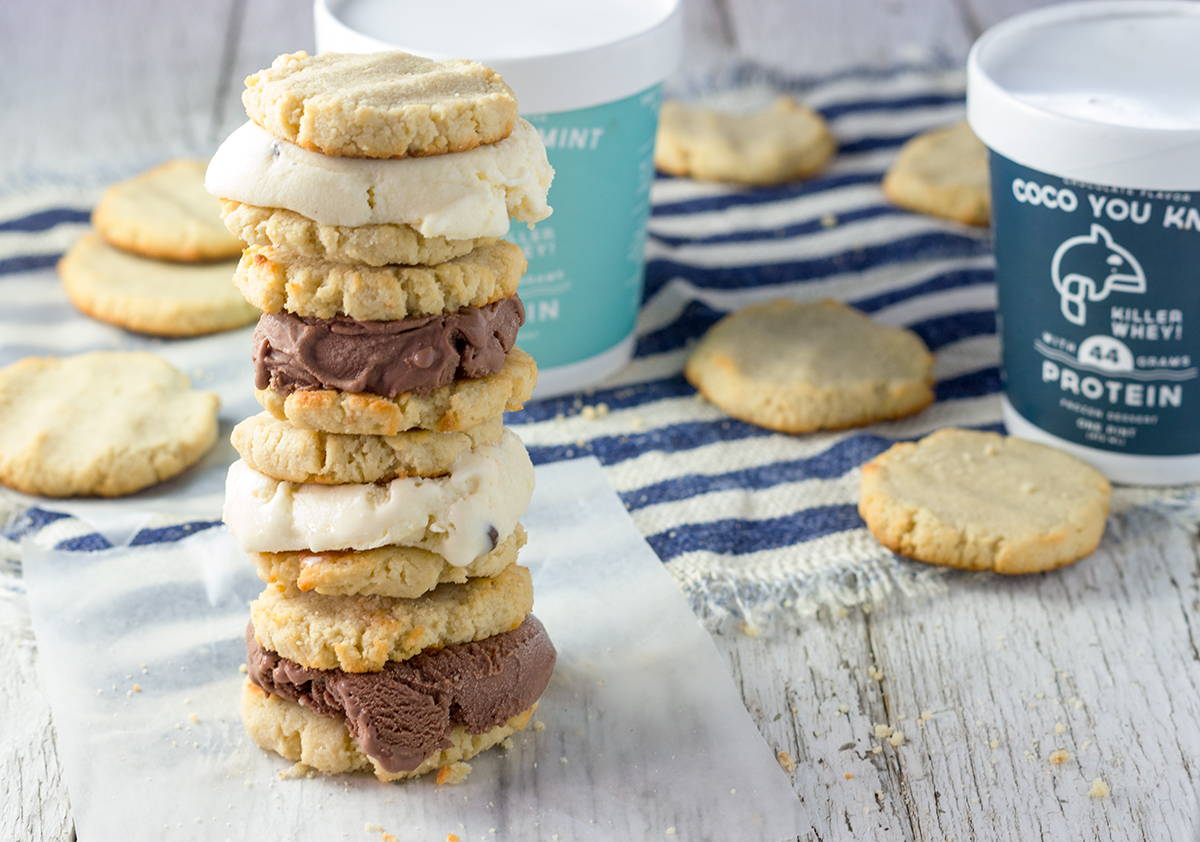 KILLER WHEY! ICE CREAM SANDWICHES WITH LOW CARB KETO CREAM CHEESE COOKIES
Time: 45 minutes
Yield: 20 cookies
Nutrition Facts per cookie: 117 calories, 9 g fat, 4.3 g protein, 4.9 g carbs, 1 g fiber, net carbs 3.9 g
Ingredients:
¼ cup butter

4 oz cream cheese

⅓ cup erythritol

1 egg

2 tsp vanilla

¼ tsp salt

2 ¼ cups almond flour
Instructions:
Preheat oven to 350 degrees.

In a large mixing bowl, beat together butter, cream cheese, and erythritol. Scrape down edges of bowl as needed.

Add in egg, vanilla, and salt. Mix well, continue to scrape down the edges of the bowl as needed. Mix until everything is well combined.

Add in almond flour about ½ cup at a time with mixer on low.

Line baking sheets with parchment paper.

Scoop a large tablespoon of cookie dough onto baking sheets (about the size of a ping pong ball), and flatten with the back of a spoon or your fingers. The cookies will not spread when you bake them. Flatten then to just under ¼ inch thick.

Bake for 15 minutes, turning halfway through baking time, until lightly brown around the edges.  

Let cookies cool completely and then use to make Killer Whey! Ice cream sandwiches! Scoop about 1/4 cup of your favorite Killer Whey! Protein or Keto Ice Cream flavor per ice cream sandwich.
*Cream cheese cookie recipe inspiration from: Low Carb Alpha, WholeSome Yum, and Low Carb Yum.