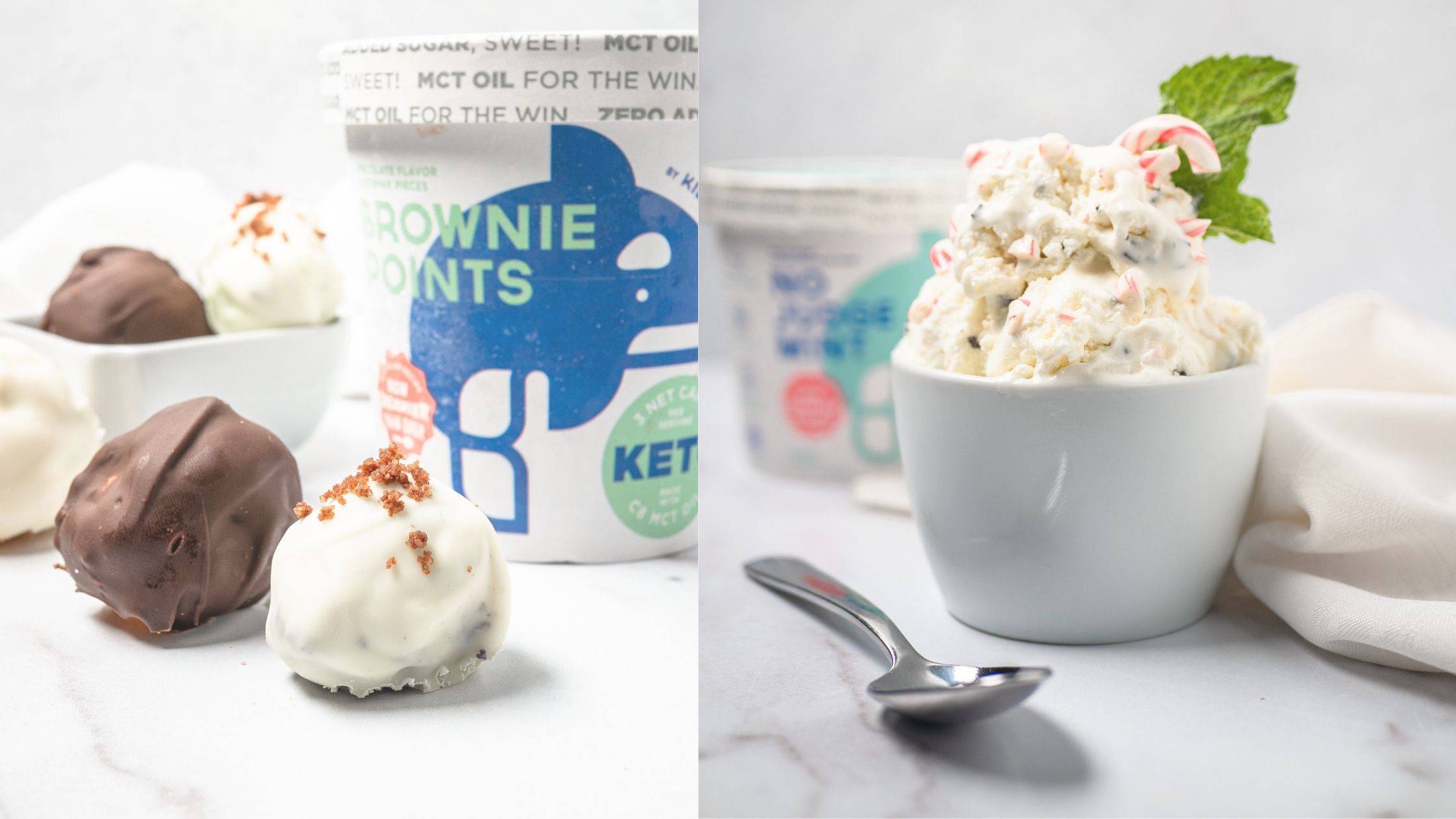 It's that time of year again! Cold weather, earlier sunsets, ugly Christmas sweaters and excuses to eat all the holiday themed treats that sneak up on us every year. With the Holidays right around the corner our taste buds are ready for all the seasonal goodies that make their come back this time of year. From Hot Cocoa to the beloved Gingerbread Men, these tempting treats could cause you to binge and kiss your ketosis goodbye. If you follow a Low Carb Diet, you could feel a bit cheated when not being able to indulge in some of the holiday's traditional sweets. But you don't have to feel like you're missing out! There are many Keto-approved and sugar-free goodies out there that will help satisfy your sweet tooth and keep you feeling festive. So lay back or get cozy by the fire because we've got you covered. We're giving you Five Healthy Treats to help you conquer those Christmas cravings!
Treat #1 Ginger Cookie / Chilla In Vanilla Ice Cream Sandwich
If you're a true gingerbread lover, say hello to your new keto obsession! Satisfy your holiday craving with a Ginger Cookie Ice Cream Sandwich. This delicious combo of keto-friendly ginger cookies and our delicious Chilla In Vanilla Ice Cream will have the whole family talking! No need to go chasing the gingerbread man, because these perfectly round baked ginger cookies by Two Sleevers makes the best outer layer for your ice cream sandwich. Add a scoop of our Chilla In Vanilla ice cream in between and let your taste buds do the rest!
Treat #2 Peppermint Ice Cream Sundae ft. No Judge-mint
Jack frost is nipping at your nose with this delicious Peppermint Ice Cream Sundae! You can never go wrong with a classic Sundae, and adding a little seasonal kick won't hurt! If you're a fan of anything mint flavored, you're about to enter mint heaven. The mixture of crushed sugar-free peppermint with our No Judge Mint Ice Cream will have your taste buds going wild. Sprinkle a bit of crushed High Key cookies, drizzle on some sugar-free chocolate syrup and Keto-friendly sprinkles and you end up with a cheerful, flavorful dessert that will have you going back for seconds and feeling the Christmas spirit.
Treat #3 Keto Apple Pie topped with Got Buns? 
We're going Apple-Solutely nuts (see what we did there?) over this mouth-watering duo of Keto-friendly apple pie topped with our Got Buns? ice cream. What can compare to a warm slice of apple pie topped with a delicious scoop of guilt-free Cinnamon Bun flavored ice cream after a holiday dinner? That's right, nothing! This yummy keto apple pie recipe by Wholesome Yum makes a delicious base for your ice cream to melt into! Yum!
Can you think of anything better than a low carb Peanut Butter milkshake? Yeah.... me neither. This modified Keto milkshake can be made in minutes, so if your sweet tooth is giving you a hard time, look no further! Take a heaping scoop of our Peanut Blubber Ice Cream along with almond milk, ice cubes (add after blending because it will water down your shake!) vanilla extract and enjoy this delicious quick treat any time. If you're a real peanut butter lover, go ahead and add a tablespoon of peanut butter for some extra protein and even more peanut buttery taste!
Need an easy low carb treat that's also easy to eat? Then let's go ahead and make some Brownie Points Chocolate Truffles. What is it about bite-sized treats that make them taste so good? You want to start off by scooping balls of Brownie Points ice cream onto a baking sheet and let them harden in the freezer. Then melt some sugar free chocolate, milk, and or sugar-free white chocolate chips in a sauce pan, use tongs or toothpicks to dip each ice cream ball into the melted chocolate mixture, dip the chocolate-coated ice cream balls into the dry toppings of your choice, then return to the freezer for 30 minutes-1 hour and enjoy! (ChocZero, 2020)
Now get into the Christmas spirit, get cozy, gather with family and friends and enjoy some yummy treats because honey, you deserve it!