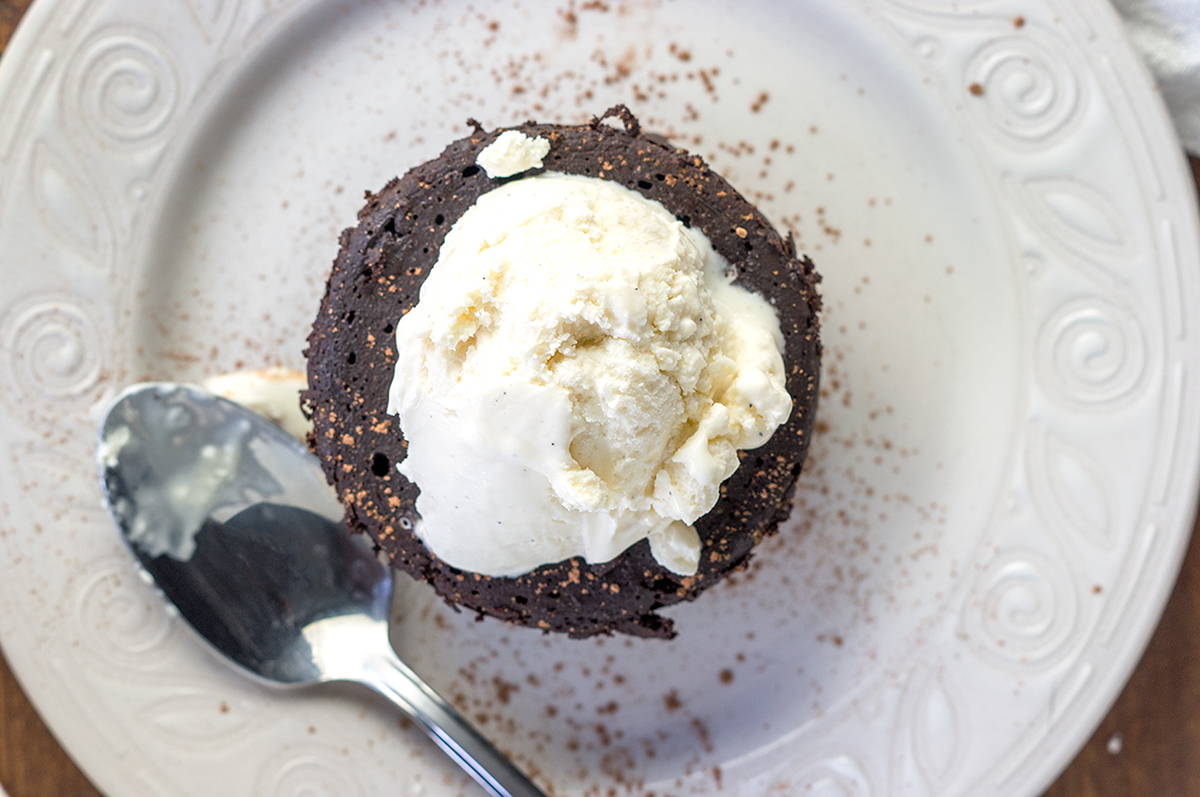 I'm normally not a cake person, but offer me a flourless, dark chocolate cake and you can easily change my mind. The beauty of a flourless cake is that it's naturally lower in carbs than a traditional cake. Flourless cakes are richer and denser than your typical birthday cakes, with an almost fudge-like consistency. Use erythritol as the sweetener, and you've transformed your flourless cake into a keto cake!
And how perfect is the combination of a single portion keto cake topped with keto ice cream? It honestly doesn't get much better than that! It's like a low carb dessert match made in heaven.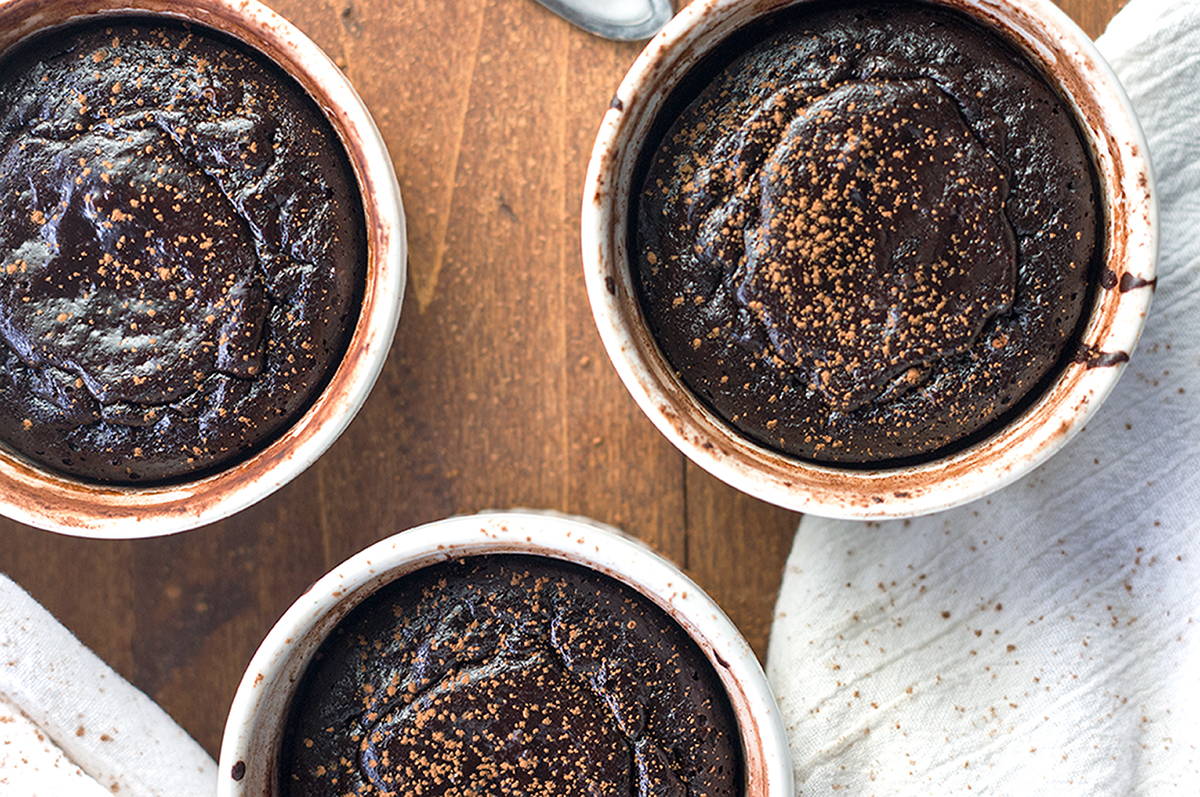 I tripled the recipe when I made this cake to get three individual servings, but only for the sake of pictures. I'd normally just make one serving for myself. I need enforced portion control when it comes to things like chocolate, cookies, brownies, and ice cream. I truly love finding, or creating, recipes for single serving desserts. It helps keep me on track. Because if there was an entire dark chocolate keto cake in my house, I'd definitely eat more than a serving at once....
Another bonus is that this dark chocolate keto cake only takes about 20 minutes to make. Less if you want to cook it in the microwave! Hands on time is about five to ten minutes.  
After the cake bakes, you have two options. Let it cool slightly and then top it with Chilla in Vanilla Keto Killer Whey! Ice cream, and let the warm cake melt the ice cream, creating a sort of ice cream syrup for the cake. Or let the cake cool completely and then top it with ice cream. Because I make three individual cakes, I tried it both ways and would have a hard time picking a preference. The combo is delicious however you decide to eat it.
You can top with cake with other Killer Whey! flavors but I do love the keto vanilla bean flavor with the dark chocolate.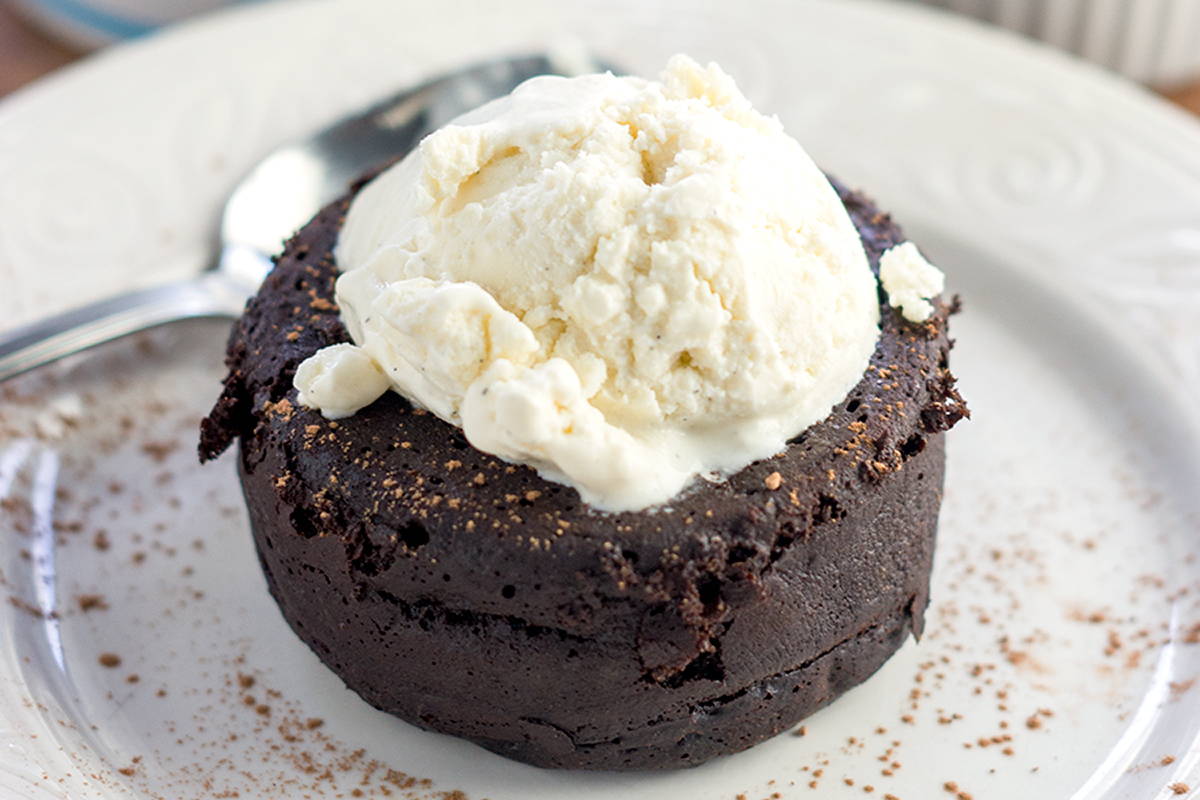 Dark Chocolate Keto Cake Topped with Chilla in Vanilla Keto Killer Whey! Recipe
Yield: 1 serving
Time: 20 minutes if baking
Nutrition information for cake only: 173 calories, 8 g protein, 13 g fat, 4 g net carbs
Ingredients:
2 tbsp cocoa powder

1 tbsp erythritol

1 egg, well beaten

1 tbsp heavy whipping cream

½ tsp vanilla

¼ tsp baking powder

1 pinch salt
Instructions:
Preheat oven to 350 degrees. Grease a ramekin or small ovenproof dish with butter.

In a small bowl, combine cocoa powder, erythritol, baking powder, and salt. Stir to combine. Make sure there isn't any cocoa powder or erythritol clumping together.

Next, add beaten egg, heavy whipping cream, and vanilla to cocoa powder mixture. Stir well to combine.

Pour batter into ramekin.

Bake for 15 minutes, until the top is set but still slightly jiggly.

Let cool and then top with Chilla in Vanilla Keto Killer Whey!  

Microwave option: Microwave on high for 1 minute, if the cake isn't set after a minute, continue to microwave in 10 second intervals until done, checking every 10 seconds.

Recipe inspiration from Tastaholics.