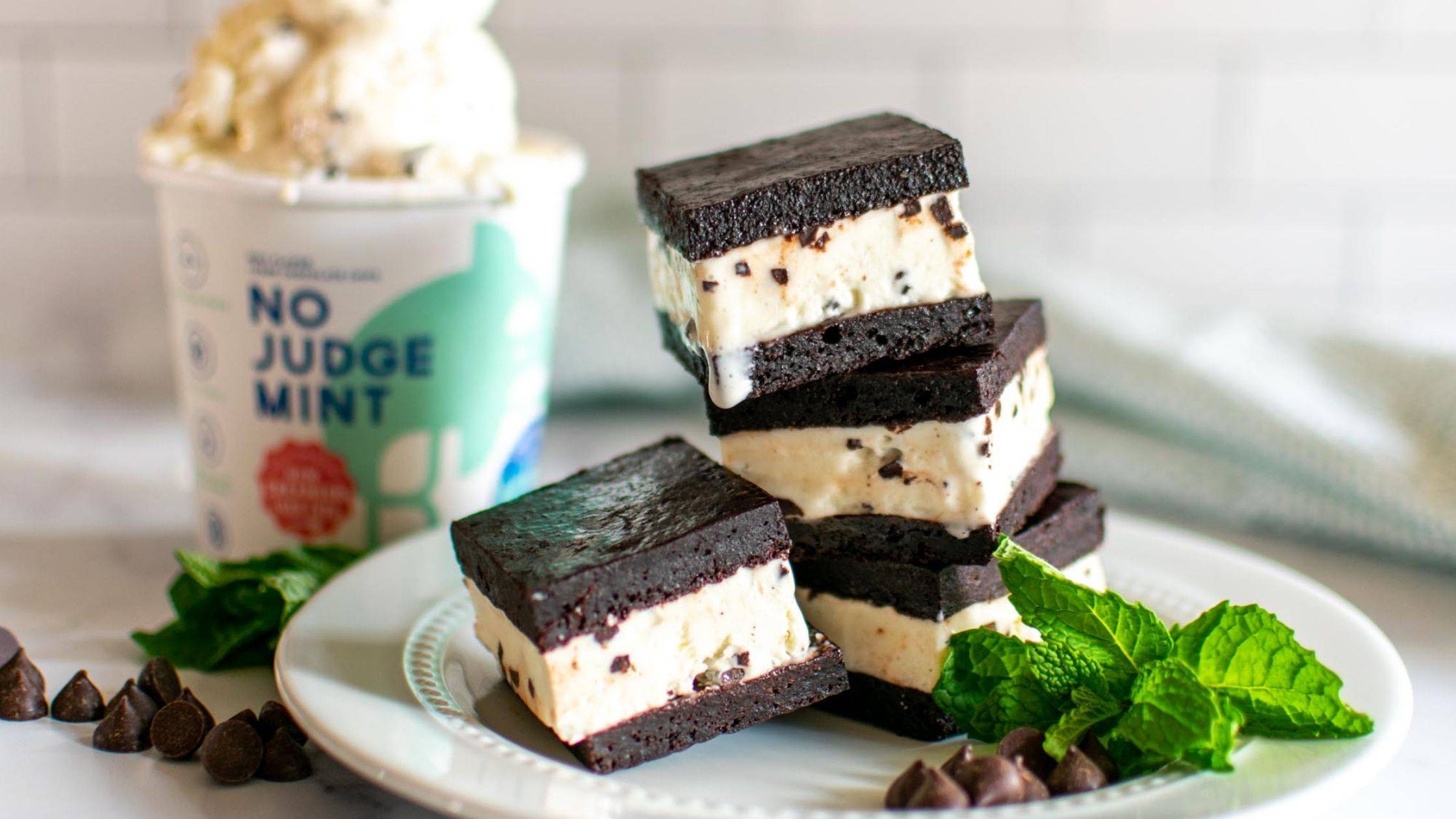 Homemade brownie batter sugar-free ice cream sandwiches anyone? This wonderfully decadent dessert recipe is the perfect way to get started with the new year. Whether you are looking to reduce your sugar intake or get started on a low carb diet, this is a great dessert option for the entire family.
*The brownie batter is much easier to spread in the pans if all the ingredients are room temperature or warmer. Don't use cold ingredients or you'll have difficulty!*
Ingredients:
14 Tablespoons (195g) butter, melted

1 1/2 cups (280g) allulose

1 1/3 cups (120g) cocoa powder

3/4 teaspoon salt

3 large eggs, room temperature

1 cup plus 2 Tablespoons (115g) almond flour

1 1/2 Tablespoons grass-fed gelatin powder

2 1/2 pints No Judge Mint ice cream
Step by Step Directions:
Preheat the oven to 325°F. Prepare two 9x9" pans with parchment paper overhanging each side.
Beat together melted butter, allulose, cocoa powder, and salt in a large mixing bowl with an electric mixer. Mixture should be warm, but not hot. If it's not warm, heat it in the microwave or over a double boiler until it is.
Beat in one egg just until mixed, then the second. Add the third egg and beat on medium-high speed for one minute.
Whisk together almond flour and gelatin. Add to the cocoa mixture and mix until just combined.
Divide mixture evenly between the prepared pans, spreading with an offset spatula to get an even layer.
Bake just until set, checking at 10 minutes. It may take 15 minutes depending on your oven.
Allow to cool to room temperature in the pans, then transfer to the freezer.
While brownies cool, remove ice cream from the freezer and allow it to sit at room temperature until the consistency of soft-serve ice cream.
Spread ice cream over one layer of brownie in the pan. Then remove the other brownie from its pan and place on top. Press down firmly.
Chill in the freezer for at least 2 hours or overnight. Then remove from the pan and slice into 16 squares.
Did you try this recipe? Tag us in your posts @killercreamery